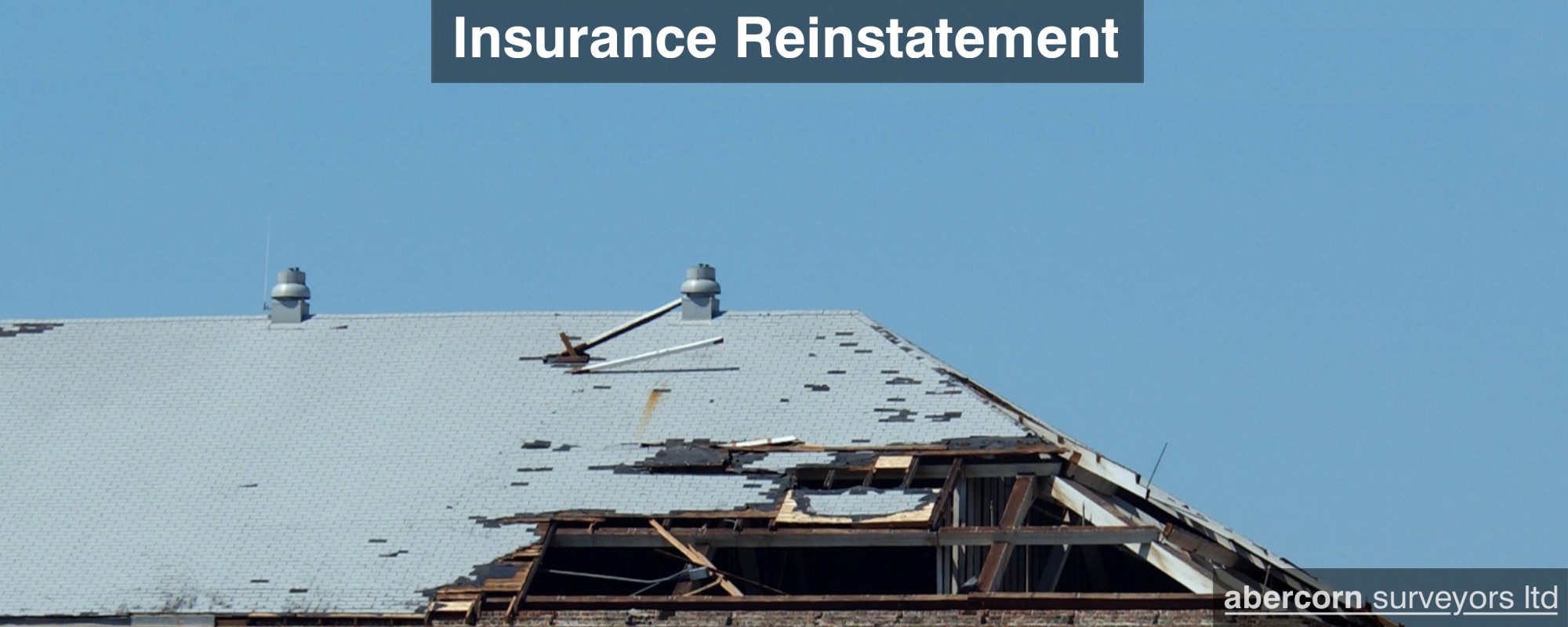 Abercorn Surveyors Ltd can undertake Insurance Reinstatement Assessments. These assessments are often required at the time of renewal of household insurance policies. Having an up to date Insurance Reinstatement Assessment will ensure that your buildings are not "under insured".
The Reinstatement Assessment figure is the cost of providing a like-for-like replacement should a building be damaged or destroyed. It includes the cost of clearing the site and all fees involved in providing the replacement building. Insurance Reinstatement Assessments are prepared using the latest BCIS guidance figures.

Insurance Reinstatement Cost Assessments
A Reinstatement Cost Assessment establishes the cost of rebuilding your property with a like-for-like replacement should it be entirely or partially destroyed by an insured peril such as flooding or fire.
These comprehensive assessments take into consideration the property itself, as well as locational factors such as ease of access and any works of shoring up that may be needed to a neighbouring property. In addition, these assessments also include factors such as demolition and clearing, professional fees and rebuilding your property to current Building Regulation standards.
The implications of being 'under insured' can be grave. If a loss adjustor deems you are only insured for 80% of your actual rebuild costs, then that is all you will receive. This is true for a complete or partial loss. For a £200,000 cost assessment, this may leave you with a £40,000 shortfall which you must then insure yourself.
It is important to understand, the cost of rebuilding your property has nothing to do with its Market Value.
Current best practice recommends a full Reinstatement Cost Assessment be undertaken every 3 years or whenever significant alteration is made to the property. All costs are taken from current BCIS rebuild cost estimates.
If you would like a Reinstatement Cost Assessment, please click on the 'Get a Quote' button on the Home page, or get in touch via the 'Contact Us' page. We also provide this service as a part of our HomeSurvey Reports.

Supervision of Reinstatement Works
If you are unlucky enough to have your property damaged by fire, flood or another insurable risk then Abercorn Surveyors Ltd can act on your behalf to ensure that it is reinstated to its former condition. We can meet and liaise with the Loss Adjuster who will represent your Insurance Company. It is worth noting that the job of the Loss Adjuster is to complete the reinstatement works at the minimum cost to the Insurance Company. This may not always be in your best interests. We will supervise all works on your behalf and ensure that your interests are protected at all times.
It is advisable to involve a Surveyor to act on your behalf as soon as possible in the process. The Surveyor's fees are normally met by the Insurance Company under the terms of most household insurance policies.